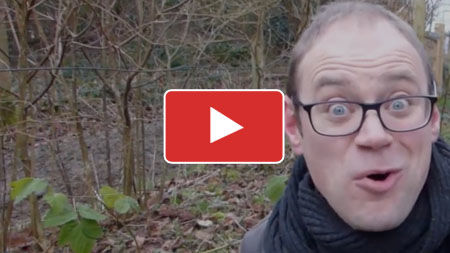 Juicy, sweet and oh-so tempting - soft fruits are the last word in homegrown deliciousness. They're also heavy cropping and surprisingly easy to grow.
Growing Soft Fruits for Beginners
If you've never tried growing fruit before, now's the time to get started.
In this short video we show you the best soft fruits for beginners to try, so you too can enjoy tasty treats from your garden.

| | |
| --- | --- |
| | |
Other Videos to Help You Get the Most from Your Garden
Learn essential gardening techniques in Under 5 minutes with our Gardening How-To video series:
6 Proven Strategies to Boost Garden Harvests
Six proven strategies to turn your garden from average to high-yield in one season:
Watch the video here >>
No-Dig Gardening: An Easier Way to Grow

How no-till gardening can help save your back while boosting your soil's health:
Watch the video here >>
Bird Feeders: Encourage Birds into Your Garden This Winter
Find out why it's important to encouraging birds into your garden during winter:
Watch the video here >>
Soil Health: How to Improve Your Soil
Any soil type can be improved using one simple technique:
Watch the video here >>
Upcycling Projects: Turn Your Trash into Garden Treasures!
Put worn out or unwanted items to good use in the garden, here are some great upcycling ideas:
Watch the video here >>
As always, you are welcome to get in touch if you have a question or topic you would like us to cover, we would love to hear from you. Just use our Contact Form.

Let's Beat the Pests Together
Want a warning when pests are heading towards your garden? Then get involved with the Big Bug Hunt research project! Report any bugs you've seen at: BigBugHunt.com