Gorgeous garlic packs a pungent punch, making it an indispensable addition to so many recipes - and every vegetable garden.
Growing Garlic from Planting to Harvest
Garlic is best planted before winter in many areas. It's very easy to grow - all it needs to thrive is a sunny spot and good drainage.
In
this short video
we demonstrate how to plant, harvest and store these beautiful bulbs so you can enjoy perfect garlic every time.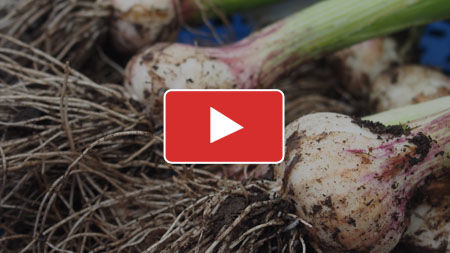 | | |
| --- | --- |
| | |

Let's Beat the Pests Together
Want a warning when pests are heading towards your garden? Then get involved with the Big Bug Hunt research project! Report any bugs you've seen at:
BigBugHunt.com

Other Videos to Help You Get the Most from Your Garden
Learn essential gardening techniques in Under 5 minutes with our Gardening How-To video series:
6 Proven Strategies for Year-round Harvests
Tricks and techniques to keep your home-grown harvests coming all year round:
Watch the video here >>
Garden Boundaries That Look Great & Taste Amazing!
How to make the most of your garden boundary as a productive place to grow food:
Watch the video here >>
Growing Raspberries from Planting to Harvest
Raspberries deserve a place in any fruit garden. With minimal care, they'll reward you with heavy crops of sweet, tangy and totally irresistible berries:
Watch the video here >>
Weird or Wonderful? Growing Food In Unusual Places!
Some of the weird and totally wonderful places you can grow your own food:
Watch the video here >>
Recharge Your Soil This Winter!
As well as protecting your soil, cover crops can be dug into the earth before spring, improving the soil ecosystem and feeding your plants with essential nutrients:
Watch the video here >>
As always, you are welcome to get in touch if you have a question or topic you would like us to cover, we would love to hear from you. Just use our Contact Form.