TRUMP PENCE WEEKLY NEWSLETTER
10.14.17
CALIFORNIA WILDFIRES
Devastating wildfires are still raging across California, taking numerous lives, destroying more than 2,000 homes and businesses, and threatening the health and safety of people across the state. Vice President Pence visited California's emergency management headquarters where he announced that President Trump ordered Federal aid to supplement State and local recovery efforts in the areas impacted by the wildfires. The work of the men and women in the Office of Emergency Services is critical for bringing these fires under control, and saving lives and property throughout California. We want to thank them for their continued hard work and offer our thoughts and prayers to everyone in California.
FAMILIES TO GET A PAY RAISE
On Wednesday, President Trump addressed manufacturers and truckers in Harrisburg, Pennsylvania, enlisting their support to get his tax reform plan passed in Congress. While there, the President said, "When your trucks are moving, America is growing. (We are) taking historic steps to remove the barriers that slow you down. America First means putting American truckers first." The President also announced that, under his tax plan, the typical American family will get a $4,000 pay raise. This is yet another reason Congress must get behind the President's plan to reduce family and business taxes. Congress should never forget exactly why voters sent them to Washington — to get things done and make life better for the American people. Please keep contacting your U.S. Representative and Senators and tell them to support President Trump's tax reform plan to make the "Middle Class Miracle" a reality this year.
ACHIEVING REAL IMMIGRATION REFORM
The Trump Administration is ready to work with Congress to achieve real immigration reform, and now there is a blueprint for them to follow. The administration just released new principles that reflect the immigration issues President Trump promoted throughout the 2016 campaign: Building a southern border wall, ending sanctuary cities, limiting visa overstays, bolstering our law enforcement personnel with new ICE officers and prosecutors. These measures will secure our communities, protect American workers, and promote financial success to Make America Safe Again and Make America Great Again.

DEREGULATION PRESIDENT

It is estimated that by 2018 there will be fewer pages of federal regulations for the first time in American history. This is because President Trump is already "the most effective deregulatory president in American history," according to former U.S. House Speaker Newt Gingrich. By reducing burdensome regulations, the President has begun to fuel real growth in the U.S economy, with quarterly GDP exceeding 3% for the first time in over two years. Now the EPA has proposed to repeal the Clean Power Plan as another step to relieve burdens on American businesses and workers, including the struggling coal industry. The CPP is a federal overreach whose repeal will bring the rule of law back to the EPA, creating new jobs in the energy sector and reducing energy costs for consumers. This is great news for American workers throughout the economy.
To receive exclusive updates text TRUMP to 88022
Team Trump-Pence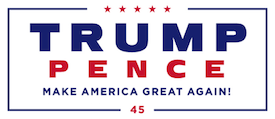 Paid for by Donald J. Trump for President, Inc.