TRUMP PENCE WEEKLY NEWSLETTER
8.5.17
STEERING THE AMERICAN ECONOMY BACK ON TRACK
The Dow Jones Industrial Average reached an all-time high of over 22,000, up over 4,000 points since the election. Under the Trump Administration, consumer confidence is soaring. Strong job growth and GDP growth have caused the unemployment rate to dwindle to 4.3%, its lowest point since 2001, with 209,000 more jobs created in July. This economic growth is a reflection of the pro-jobs and pro-business policies pursued by President Donald Trump and his Administration. After years of job-killing regulation and anti-business policies, President Trump has steered the American economy back on track.
THANKING REPUBLICANS & DEMOCRATS IN WEST VIRGINIA
West Virginia provided an extra warm welcome to the President of the United States this week at a rally in Huntington. The President took this opportunity to speak directly to the people he represents to tell them about the work we've accomplished together and let them know of the work we have ahead of us. Countless citizens – Democrats, Republicans, Independents - have all been ignored by Washington, but Trump vows to never ignore these forgotten men and women. Joining the President at the Podium, Governor Jim Justice declared that he could no longer be a Democrat for the working men and women of his state. We are proud to welcome Governor Justice's to the GOP. No matter the political party, it's always amazing to see thousands of Americans turn out in support of our President and his vision to Make America Great Again!
CREATING A MERIT-BASED IMMIGRATION SYSTEM
Senators Tom Cotton and David Perdue joined President Donald Trump at the White House to introduce The Reforming American Immigration for a Strong Economy Act (RAISE Act). The RAISE Act is aimed at creating a skills-based immigration system that will make America more competitive, raise wages for American workers, and create jobs. Americans deserve a raise. The RAISE Act will reduce poverty, increase wages, and save taxpayers billions of dollars.
THE ENGINE OF THE AMERICAN DREAM
This week, President Trump welcomed over 100 small business owners to the White House for an event highlighting small businesses, "The Engine of the American Dream." Together with the Administrator of the Small Business Administration (SBA), Linda McMahon, President Trump demonstrated his Administration's commitment to instituting policies that allow small businesses to flourish in America and to spotlight the large contributions that small businesses make to the American economy.
PAYING TRIBUTE TO A VETERAN WHO WENT ABOVE AND BEYOND
President Trump awarded the Medal of Honor to former Specialist Five James C. McCloughan for conspicuous gallantry during the Vietnam War. McCloughan received the Medal of Honor for distinguished actions during 48 hours of close-combat fighting against enemy forces near Don Que, Vietnam, from May 13 to 15, 1969. McCloughan, then 23 years old, voluntarily risked his life on nine separate occasions to rescue wounded and disoriented comrades. "Today, we pay tribute to a veteran who went above and beyond the call of duty to protect our comrades, our country, and our freedom," said President Trump.
TALKING SECURITY AND PROSPERITY WITH BALTIC STATES
Vice President Pence visited Eastern Europe, to meet with leaders from Estonia, Georgia, and Montenegro. On behalf of President Trump, the Vice President met with these leaders to talk about security and prosperity. The United States of America, under President Trump, is committed to nations around the world that are committed to freedom.
THE PRESIDENT'S WEEKLY ADDRESS
Watch the President's weekly address by
clicking here.

Team Trump-Pence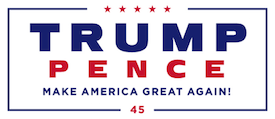 Paid for by Donald J. Trump for President, Inc.