In this time of widening challenges and unforeseeable threats, President Trump challenged all who cherish freedom to work together to confront the forces that threaten to undermine our values, erase the bonds of culture, faith, and the tradition that make us who we are.
President Donald Trump declared to all of the world and all who would threaten our way of life, "the West will never, ever be broken. Our values will prevail. Our people will thrive, and our civilization will triumph."
President Donald Trump has no higher priority than the safety and security of the American people.
Learn more about the President's week below.
America's Strong Ties With The French
President Trump and First Lady Melania Trump visited France this week. They visited the U.S. Embassy for a meet and greet with staff and participated in the Bastille Day festivities. President Trump also made time to recognize three American Veterans of D-Day who took back the beaches and towns of Normandy 73 years ago. President Trump is the first United States President to participate in the ceremonies since 1989. To commemorate the 100th anniversary of the entry of American troops onto French soil during World War I, the people of France have designated the United States as this year's national guest of honor.
Making America Safe Again
President Trump is focused on ending the horrific practice of human trafficking, and the House of Representatives passed three bills this week that are important steps forward. Since taking office, President Trump and his administration have met with courageous survivors, non-profit groups, and faith leaders who are devoting tremendous energy to raising awareness about human trafficking. He is hopeful that the Senate will take up and pass these three bills as soon as possible and looks forward to continuing work with Congress on this important issue.
Ending The Long Nightmare Of ISIS Rule
With the support of President Trump, Iraqi Security Forces supported by the United States and the Global Coalition, liberated the city of Mosul from its long nightmare under the rule of ISIS. President Trump congratulates Prime Minister Haider al-Abadi, the Iraqi Security Forces, and all Iraqis for their victory over terrorists who are the enemies of all civilized people. We mourn the thousands of Iraqis brutally killed by ISIS and the millions of Iraqis who suffered at the hands of ISIS. We grieve with the Iraqi people for the loss of the heroic soldiers and Peshmerga who gave their lives to restore life to their country, and we honor their sacrifice.
Putting America First
Thanks to President Trump's leadership, since the start of this year, American businesses have created more than 800,000 good-paying jobs across the United States. Companies large and small are making extraordinary investments all across America resulting in billions of dollars earned and thousands of new jobs — we have not seen small business confidence soar this high in more than a decade. Every day, President Trump is putting America first.
Thank you for your continued support, to watch a message directly from the President you can click here or the image below.

Team Trump-Pence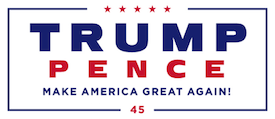 Paid for by Donald J. Trump for President, Inc.