TRUMP PENCE WEEKLY NEWSLETTER
04.28.18

US & FRANCE – UNBREAKABLE
This week, President Trump and First Lady Melania Trump welcomed French President Emmanuel Macron and his wife Brigitte to the White House, marking the first official State Visit of the Trump Presidency. During the visit, President Trump led bilateral meetings with President Macron and the French delegation to address issues of major importance, including Syria, the Iran nuclear deal, and trade between our two countries.
OBSTRUCTIONIST DEMOCRATS
This week, the Democrats tried to block the nomination of Mike Pompeo as the Secretary of State in the Senate Foreign Relations Committee. Fortunately, the committee ultimately approved the measure to move on for a vote in the full Senate. Later in the week, the Senate voted and confirmed this important nomination of our top diplomat. President Trump, however, is condemning obstructionist Democrats for slow-walking his nominations of highly qualified candidates for sensitive positions in his administration. The President hopes for new measures in the near future to clear this unprecedented and partisan-driven backlog of his nominations in the U.S. Senate.
REDUCING CRIME, DRUGS, AND TRAFFICKING AT OUR BORDERS
While in Florida, President Trump went to Key West to visit the Joint Interagency Task Force South, the organization that oversees the response to the trafficking of illicit drugs and humans for the sex trade. The task force is responsible for saving countless American lives through its work. President Trump always enjoys meeting with our law enforcement and Homeland Security personnel on the front lines of these life-saving battles.
STANDING WITH JAPAN
President Trump met with Japanese Prime Minister Shinzo Abe last week to reaffirm the alliance between America and Japan. In major bilateral meetings, President Trump and Prime Minister Abe worked to continue the decades-long economic prosperity shared through trade between our nations and discussed plans to address the denuclearization of the Korean peninsula in the upcoming summit with North Korea. Prime Minster Abe thanked the President for his "remarkable leadership" on the world stage.
Team Trump-Pence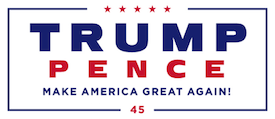 Paid for by Donald J. Trump for President, Inc.