TRUMP PENCE WEEKLY NEWSLETTER
04.22.18
TAX DAY
President Trump traveled to Hialeah, Florida this week to lead a Tax Cuts for Florida Small Businesses Roundtable event with local and state leaders. While there, President Trump commented on how Tax Day 2018 will be the last time taxpayers have to deal with complicated tax return filings. While millions of Americans have received bonuses and pay raises thanks to the President's historic tax cuts, some of the benefits still lie ahead, including simplified tax returns that will help reduce unnecessary burdens on millions of Americans.
LIMITED STRIKES ON SYRIA
Last week, President Trump ordered air strikes on select targets in Syria to eliminate Bashar al Assad's chemical weapons capabilities. The U.S. military acted with our coalition partners, Britain and France. It's clear that the difference between President Trump and his predecessor when a dictator crosses a red line is that this President will take decisive action. The air strikes in Syria represent a limited engagement on the part of the U.S. Military, but they sent an important message to thuggish rulers from this U.S. President.
FIGHTING HUMAN TRAFFICKING
Today, sex trafficking is recognized as modern slavery and a plague on our nation and the world. President Trump signed a bill last week that will give law enforcement and victims new tools to fight sex trafficking. The legislation makes it easier to target websites that enable sex trafficking with legal action and demonstrates that President Trump will do everything he can to combat this brutal atrocity.
AMAZON'S POSTAL "SCAM"
Amazon continues to exploit below-cost rates for shipping across America. To address this and other issues, President Trump convened a task force to study the United States Postal Service. The task force will submit a report with recommendations on companies such as Amazon and propose a restructuring of the Postal Service to prevent a taxpayer-funded bailout.
To receive exclusive updates text TRUMP to 88022

Team Trump-Pence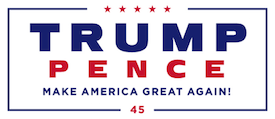 Paid for by Donald J. Trump for President, Inc.