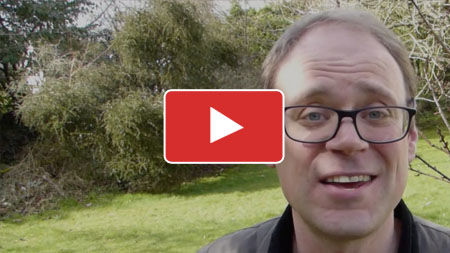 If you think a low-maintenance garden means bland or, worse still, paved over and bereft of plants, think again!
How to Plan a Low Maintenance Garden
Growing a garden that's easy to look after simply requires a little forward planning.
In
this short video
we share ideas for growing a beautiful, productive garden that can be cared for with the minimum of time and effort.

Let's Beat the Pests Together
Want a warning when pests are heading towards your garden? Then get involved with the Big Bug Hunt research project! Report any bugs you've seen at:
BigBugHunt.com

Other Videos to Help You Get the Most from Your Garden
Learn essential gardening techniques in Under 5 minutes with our Gardening How-To video series:
Planting Tips for a Better Potato Harvest
Simple techniques to boost and extend your potato harvests:
Watch the video here >>
Growing Soft Fruits for Beginners
Find out which soft fruits are the best for beginners to grow:
Watch the video here >>
6 Proven Strategies to Boost Garden Harvests
Six proven strategies to turn your garden from average to high-yield in one season:
Watch the video here >>
No-Dig Gardening: An Easier Way to Grow
How no-till gardening can help save your back while boosting your soil's health:
Watch the video here >>
As always, you are welcome to get in touch if you have a question or topic you would like us to cover, we would love to hear from you. Just use our
Contact Form
or reply to this email.