TRUMP PENCE WEEKLY NEWSLETTER


02.17.18
BROWARD COUNTY TRAGEDY
On Wednesday

, a Broward County Florida High School came under attack in a shooting rampage that resulted in the deaths of 17 innocent victims and numerous other injuries. Our thoughts and prayers are with the victims, their families, and the entire Broward County community. As President Trump said in response to the news: "No child, teacher or anyone else should ever feel unsafe in an American school."
REBUILDING AMERICA
Did you know that it took only one year to build the Empire State Building? A remarkable engineering achievement! Today, major infrastructure projects for bridges, tunnels, roadways, and more can take up to ten years just to get permits! And our infrastructure is critical for our growing economy. That's why President Trump unveiled a sweeping plan this week to modernize America's infrastructure, and called on Congress to deliver a plan that will: Promote state, local and private sector investments; Allow local officials to make the decisions; Invest 50 billion dollars in Rural America; Eliminate red tape to limit the permit process to no more than two years; And invest in America's most important asset: our people.
FREEDOM, EQUALITY, AND DIGNITY
This year, President Trump declared the theme of Black History Month to be: "African Americans in Times of War." This is a special tribute to African Americans in our history who fought bravely for our country while they didn't fully share in the very rights they were fighting to protect. Just this week, the President and First Lady welcomed black leaders for a special event at the White house, during which President Trump stated poignantly, "…just like so many African Americans throughout our history who have struggled and sacrificed for freedom, we must do our part to make that vision (of freedom, equality and dignity) real for every single American."
THE PRESIDENT'S FOUR PILLARS
As Congress debates the illegal immigration issue, you may wonder why Democrats didn't quickly agree to a deal with President Trump when he offered them even more than they were seeking to resolve the DACA dispute. Regardless of their political reasons, the President has been very clear that all four pillars he has outlined must be addressed in any deal, including: Finding a legal and compassionate fix to DACA; Securing the border, including $25 billion authorized for a border wall; Ending chain migration; and Eliminating the visa lottery system. This framework has the support of the vast majority of Americans, so the time is now or never for Democrats to become part of the solution.
Team Trump-Pence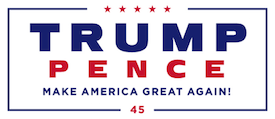 Paid for by Donald J. Trump for President, Inc.