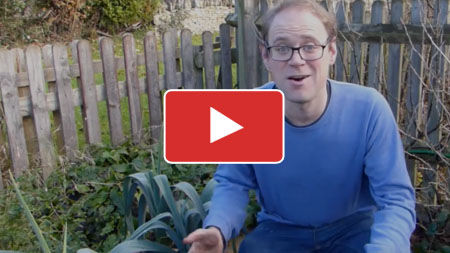 Good soil provides moisture, nutrition and support for crops. It's essential to take care of your soil to guarantee a great harvest.
Soil Health: How to Improve Your Soil
Any soil type can be improved using one simple technique.
In
this short video
we show you how to identify what type of soil you have, and how to improve it.
Let's Beat the Pests Together
Want a warning when pests are heading towards your garden? Then get involved with the Big Bug Hunt research project! Report any bugs you've seen at:
BigBugHunt.com

Other Videos to Help You Get the Most from Your Garden
Learn essential gardening techniques in Under 5 minutes with our Gardening How-To video series:

Upcycling Projects: Turn Your Trash into Garden Treasures!
Put worn out or unwanted items to good use in the garden, here are some great upcycling ideas:
Watch the video here >>
Growing Garlic from Planting to Harvest
How to plant, harvest and store for perfect garlic every time:
Watch the video here >>
6 Proven Strategies for Year-round Harvests
Tricks and techniques to keep your home-grown harvests coming all year round:
Watch the video here >>
Garden Boundaries That Look Great & Taste Amazing!
How to make the most of your garden boundary as a productive place to grow food:
Watch the video here >>
Growing Raspberries from Planting to Harvest
Raspberries deserve a place in any fruit garden. With minimal care, they'll reward you with heavy crops of sweet, tangy and totally irresistible berries:
Watch the video here >>
As always, you are welcome to get in touch if you have a question or topic you would like us to cover, we would love to hear from you. Just use our Contact Form .

| | |
| --- | --- |
| | |
© Growing Interactive Ltd 2017.
Growing Interactive is a limited company registered in Cardiff, UK. Company registration number 5997411.