The human soul yearns for discovery. By unlocking the mysteries of the universe, we unlock truths within ourselves.
We're a nation of pioneers, and the next great American frontier is space. We have tremendous spirit, and we're going to have tremendous spirit from the private sector.
By re-establishing the National Space Council, President Trump sends a clear signal to the world that we are restoring America's proud legacy of leadership in space.
Our travels beyond the Earth propel scientific discoveries that improve our lives in countless ways right here, at home: powering vast new industry, spurring incredible new technology, and providing the space security needed to protect the American people.
Read more about the President's work below.
Happy Independence Day!
The President and First Lady celebrated America's independence at the White House with those who courageously defend our country -- the men, women and families of the United States military. "There could be no greater privilege than to serve as your Commander-in-Chief. I pledge my unwavering support for you, for your families, and your missions. I will always have your back," said President Trump.
Reaffirming America's Commitment To Its Allies
President Trump took his second trip abroad this week to Poland and Germany. President Trump reaffirmed America's commitment to our allies while working to promote American interests abroad. In Poland, President Trump reminded us to value "the dignity of every human life, protect the rights of every person, and share the hope of every soul to live in freedom." The President also explained that the "West became great not because of paperwork and regulations but because people were allowed to chase their dreams and pursue their destinies." The United States share strong democratic roots and freedoms with Europe, and President Trump understands this important partnership.
Reviving The National Space Council
President Trump took a crucial step to secure America's future in space by reviving the National Space Council after being dormant for almost 25 years. President George H.W. Bush established the National Space Council in 1989. The Council was tasked with advising and assisting the President regarding national space policy and strategy. The Council ceased operation in 1993. This Executive Order revives the Council and will reinvigorate America's role as a leader in space, strengthen America's economy, and advance the security of the American people. As the newly-appointed Chair of the National Space Council, Vice President Pence delivered a message to NASA Astronauts this week at the Kennedy Space Center––"Welcome to a new era of American leadership in Space!"
American Manufacturers Are Growing
American manufacturers are growing at the fastest pace in almost three years, citing improved economic conditions both at home and abroad. Under President Trump, new orders and production both increased and employment plans hit the second highest level since 2011. Not to mention the number of employed Americans has hit a record high of 153,168,000 in June, according to latest numbers released by the Bureau of Labor Statistics. There were also 245,000 more Americans who gained employment over the month and more individuals joined the labor force as well. It's clear President Trump is Making America Great Again!
Read more about this growth in manufacturing by clicking here.
Donating His Salary To A Worthy Cause
In April, President Trump decided to donate the first three months of his salary to the Department of Interior. This week it was announced a portion of his salary and matching funds will now help fund restoration projects at Antietam National Battlefield in Maryland. "The President's donation will allow generations of Americans to learn about our history and heritage on this sacred site," said Secretary of Interior, Ryan Zinke.
With President Trump's actions, America will think big once again. We haven't been thinking big for a long time, but we're thinking big again as a country, both at home and abroad. President Trump will continue to Make America Great Again.
We're launching a whole new chapter for our great country, and we can't do it without you.

Team Trump-Pence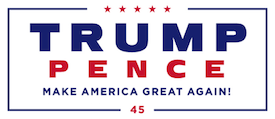 Paid for by Donald J. Trump for President, Inc.