The men and women of the U.S. military have been the greatest force for peace and justice in the history of the world. President Trump wants all of them to know that as Commander-in-Chief, they always have his complete and unshakable support.

Every single day, our brave men and women protect the safety and security of the American people -- and provide a symbol of hope, freedom and justice for the world. To our friends and allies, they are the ultimate reassurance -- to our enemies, they are the ultimate deterrent.

Read more about the President's week below.

Honoring Those Who Gave Their All

This Memorial Day, President Trump honored the brave warriors who gave their lives for ours, spending their last moments on earth in defense of our country and of her people. Words cannot measure the depth of their devotion, the purity of their love, or the totality of their courage. We only hope that every day we can prove worthy not only of their sacrifice and service but of the sacrifice made by the families and loved ones they left behind.
Making A Difference For Thousands of Veterans And First Responders
Vice President Pence also commemorated our fallen heroes by hosting the Project Hero Bike Ride. Project Hero is an organization raising awareness about the nationwide Post Traumatic Stress Disorder (PTSD) mental health crisis and making a difference in the lives of thousands of Veterans and First Responders, as well as their families and communities. "I think the work of Project Hero is a way that we honor all those who've served in a unique way. Since its founding in 2008, you've brought renewed attention to those heroes suffering from their time of service," said Vice President Pence.
Putting American Jobs and American Workers First
Thanks to President Trump, the American taxpayer will no longer be captive to the burdensome Paris Accord. We will now begin negotiations to re-enter either the Paris Accord or an entirely new transaction, on terms that are fair to the United States. By the action the President took this week, the American people and the world will see once again that our President is choosing to put American jobs and American workers first. He's choosing to put American energy and American industry first – and by his action this week, President Trump is choosing to put the forgotten men and women of America first!
Delivering A Message Of Unity To America's Friends & Allies
President Trump embarked on his first trip overseas as President on Friday, May 19th. The President made five stops in four countries during the eight-day trip. The President reaffirmed America's global leadership, continued building key relationships with world leaders, delivering a message of unity to America's friends and allies. He made stops in Saudi Arabia, Israel, Italy, and Belgium, and attended both the NATO and G7 summits.
Watch a summary of his travels by clicking here.
Get The Facts: No Fake MAGA Hats – 100% Made In The USA
Two years ago this month Donald Trump pledged to Make America Great Again, and a hat became the enduring symbol of our grassroots movement. As the campaign swept the nation, hundreds of Americans were put to work manufacturing the Make America Great Again (#MAGA) hats, all proudly made in the USA. As a result, an American company that was near bankruptcy stayed in business and is thriving today.
Learn more about the creation of the Make America Great Again hat, and how to make sure you have an authentic hat by watching our new video by clicking here
– #MAGA hats are always 100% Made in the USA.
Make Golf Great Again
Looking for a Father's Day gift for dad? Make a Yuge improvement to your golf game with this patriotic driver cover, shaped as a miniaturized version of the iconic MAGA hat. Tee yours up today before they're gone!
Click here to buy it now.
That glorious American flag represents the courage that burns in American hearts. It represents the unity that binds us all together as one. Our soldiers are the warriors of freedom. The protectors of our great American flag.
This week and always, we give our thanks to the patriots who keep the fires of liberty burning and the ones who protect the God-given freedoms that are the birthright of every single American child.
President Trump is excited for the great adventures and achievements that we will accomplish together as we Make America Great Again.
Thank you for your continued support

Team Trump-Pence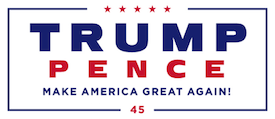 Paid for by Donald J. Trump for President, Inc.