If we set aside the cynics and the critics we have an incredible opportunity to do extraordinary things for our country in the years ahead. History is written by the dreamers, not the doubters.
President Trump is embracing a new spirit of innovation that will make life better for all Americans.
We have made amazing progress in Making America Great Again and we're just getting started.
Read about the President's week below:
Bound Together By Common Values
Supporters gathered in Cedar Rapids, Iowa this week to hear from President Trump. Everyone in that arena was bound together by common values we all have: we love our country, obey its laws, honor its traditions, and care for our families and communities. All we want in return is a government that shows us the same respect and loyalty. Our country is getting stronger and President Trump promises to keep Making America Great Again with your help at record setting speed.
Making American Agriculture Great Again
American farmers and ranchers are the best at what they do. Given a level playing field, they can compete anywhere. Unfortunately, up until now, our farmers and ranchers have been let down and left behind because of our terrible trade deals. President Trump is cracking down on foreign trading abuses, making it easier to produce and grow in America. He is also supporting this effort by eliminating job-killing regulations, and training our great American workers. President Trump visited Kirkwood Community College in Iowa, to demonstrate how important it is to support schools like Kirkwood, that help train young Americans in cutting-edge technologies that will make American agriculture greater and more productive than ever before.
Fighting For Manufacturers
American manufacturers are the beating heart of our national life and always will be. Manufacturers make America and they make America great. Vice President Pence met with the National Association of Manufacturers and made it clear that they have the White House's unwavering support. Thanks to the President's leadership, American manufacturing is roaring once again. More than 12 million Americans work at manufacturers in all 50 states. The overwhelming majority of manufacturers are small businesses, and they contribute more than $2 trillion to our economy. Since day one of this administration, President Donald Trump has been fighting for manufacturers and the men and women who work on your factory floors, and he'll keep fighting every day to lead an American manufacturing renaissance.
Deepest Condolences To The Warmbier Family
President Trump and the First Lady offer their deepest condolences to the family of Otto Warmbier on his untimely passing. There is nothing more tragic for a parent than to lose a child in the prime of life. Our thoughts and prayers are with Otto's family and friends, and all who loved him. Otto's fate deepens President Trump's determination to prevent such tragedies from befalling innocent people at the hands of regimes that do not respect the rule of law or basic human decency. The United States once again condemns the brutality of the North Korean regime as we mourn its latest victim.
Sweeping Transformation In Government Technology
President Trump was joined by an incredible group of leaders who are on the cutting edge of innovation, including many CEOs from the world's most successful businesses. His goal is to lead a sweeping transformation of the federal government's technology that will deliver dramatically better services for citizens and stronger protection from cyberattacks. The President is embracing big change, bold thinking, and outsider perspectives to transform government and make it the way it should be, and at far less cost.
President Trump can't thank his supporters enough for working with him to make our country stronger.
We've got a lot of work to do, but with President Donald Trump in the White House, we will make America prosperous again, we will make America safe again, and we will Make America Great Again.

Team Trump-Pence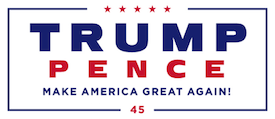 Paid for by Donald J. Trump for President, Inc.