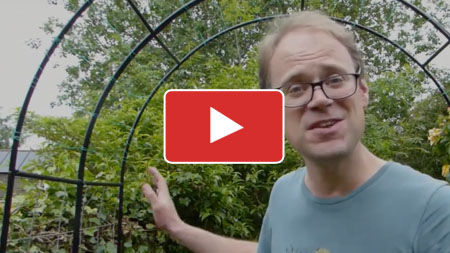 Vegetable arches offer an incredibly efficient - and attractive - way to grow sprawling or vining vegetables such as squashes, beans and cucumbers.

How to Make a Beautiful Arch for Climbing Vegetables
When you don't have much growing space it makes sense to train your vegetables upwards.
In this short video we show you how to make a very simple vegetable arch that's perfect for creating a beautiful, edible focal point to your garden.


Let's Beat the Pests Together
Want a warning when pests are heading towards your garden? Then get involved with the Big Bug Hunt research project! Report any bugs you've seen at:
BigBugHunt.com

Other Videos to Help You Get the Most from Your Garden
Learn essential gardening techniques in Under 5 minutes with our Gardening How-To video series:
How to Grow Fruit and Vegetables in Hanging Baskets
Hanging baskets provide a great space-saving way to grow many fruits and vegetables:
Watch the video here >>
Stunning Designs for Small Gardens
There are many clever design techniques you can use to make the most of your space:
Watch the video here >>
Growing Carrots from Sowing to Harvest
Getting carrots just right can be challenging, but when you know how it's easy:
Watch the video here >>
How to Make Willow Structures for Your Garden
Willow is great for making rustic screens, structures and supports and has a beautiful natural look:
Watch the video here >>
7 Vegetable Garden Shortcuts
Some simple tiops to make gardening easier for yourself and speed up the process:
Watch the video here >>
As always, you are welcome to get in touch if you have a question or topic you would like us to cover, we would love to hear from you. Just use our Contact Form