President Trump spent another week making strides and putting America First!
Announcing more jobs for Americans, honoring the brave people protecting Americans, and addressing the problems of every day Americans were just some of the things accomplished on the President's to-do-list this week.
President Trump is out there working for all of us. Your support keeps him energized and we wouldn't be here without you.
Read about the President's week below.
THIS WEEKHonoring The People Who Serve Our Country
President Trump welcomed 25 Medal of Honor recipients to the White House. Each of them has risen above and beyond the call of duty in defense of our country, our people, and our flag. They have selflessly gave their all for the United States of America. They are the soul of our Nation, and our grateful republic salutes you.
20,000 More Jobs For The American People
President Trump was thrilled to announce that Charter Communications has committed to investing $25 billion dollars in the United States, and has committed to hiring 20,000 American workers over the next four years. Charter will also end its offshore call centers, now basing 100% of them here in the United States. This is great for their workers and customers, but especially great for the United States.
Ending Drug Abuse In America
Drug abuse has become a crippling problem throughout the United States. Drug overdoses are now the leading cause of accidental death in our country and opioid overdose deaths have nearly
quadrupled since 1999. This is a total epidemic. President Trump is committed to working directly with representatives from state and local governments, law enforcement, medical professionals, and victims to find solutions to combat this issue. He held a round table this week, dedicated to solving the drug crisis through cooperation across government and across society, including early intervention to keep America's youth off this destructive path.
Harnessing The American Spirit
Consumer confidence in March soared to the highest level in more than 16 years, according to data released Tuesday. Consumer confidence has taken off since the election of President Donald Trump, on the prospect of lower taxes and more infrastructure spending. We're 10 weeks into President Trump's presidency and it's clear the American people are harnessing this new American Spirit!
Ending The War On Coal
President Trump took action that will eliminate federal overreach, restore economic freedom, and allow our companies and our workers to thrive, compete, and succeed on a level playing field for the first time in a long time. President Trump is doing that by putting an end to the war on coal. With his executive action this week, President Trump took historic steps to lift the restrictions on American energy, reverse government intrusion, and to cancel job-killing regulations.
Empowering And Promoting Women In Business
Empowering and promoting women in business is critical to President Trump because he knows how crucial women are as job creators, role models, and leaders throughout all of our communities. As we conclude Women's History Month, President Trump met with women small business owners to discuss how we can continue this important mission. President Trump made it clear that we must ensure that our economic environment is a place where women can work and thrive. President Trump will continue to address the barriers faced by women professionals and entrepreneurs.
Identifying all the issues facing our country is an overwhelming task, but President Trump is listening to all the key stakeholders. He's learning about the troubles facing our people and seeking solutions.
We're only 10 weeks into his presidency and already he's Making America Safe Again, Making America Work Again, and he's Making America Great Again!
Team Trump-Pence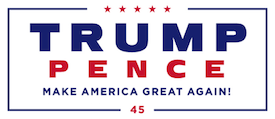 Paid for by Donald J. Trump for President, Inc.