Willow is very satisfying to work with and lends itself to making rustic screens, structures and supports for a beautiful natural look. No special tools needed!

How to Make Willow Structures for Your Garden
Willow structures make very useful and attractive features in a garden. They can be used to edge beds, screen off unsightly parts of the garden, or even be used as fencing.
In this short video we demonstrate how to make a simple willow hurdle, step by step.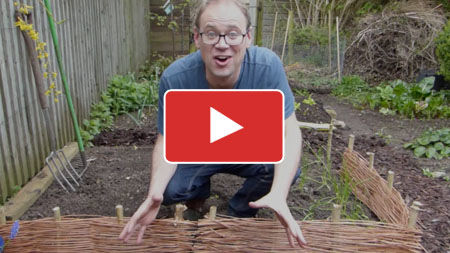 Let's Beat the Pests Together
Want a warning when pests are heading towards your garden? Then get involved with the Big Bug Hunt research project! Report any bugs you've seen at:
BigBugHunt.com

Other Videos to Help You Get the Most from Your Garden
Learn essential gardening techniques in Under 5 minutes with our Gardening How-To video series:
7 Vegetable Garden Shortcuts
Some simple tiops to make gardening easier for yourself and speed up the process:
Watch the video here >>
Choose and Grow the Best Tasting Strawberries
The best varieties and ideal growing conditions for a bumper crop of strawberries:
Watch the video here >>

Growing Leeks from Sowing to Harvest
Luscious leeks are trouble-free crops with a long harvest period that can extend right through winter:
Watch the video here >>
How to Plan a Bigger, Better Garden!
Five simple ways to improve your soil and give your crops the best possible start this spring:
Watch the video here >>
Supercharge Your Soil for Spring
Taking time to consider what you're going to grow, where you're going to grow it and - crucially - when you need to sow or plant it will help you to make the most of your growing space.:
Watch the video here >>
As always, you are welcome to get in touch if you have a question or topic you would like us to cover, we would love to hear from you. Just use our Contact Form or reply to this email.