Composting is the gardener's way of recycling old plant material into rich, soil-nourishing compost. Plants love it!

How to Make a Compost Bin from Pallets
Wooden pallets are often free to source and are the perfect size for making a large compost bin.
In this short video we demonstrate how to make a simple but effective compost bin, step-by-step, from pallets.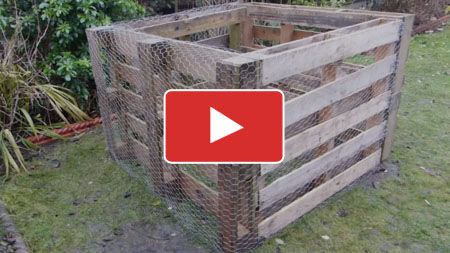 Let's Beat the Pests Together
Want a warning when pests are heading towards your garden? Then get involved with the Big Bug Hunt research project! Report any bugs you've seen at:
BigBugHunt.com

Other Videos to Help You Get the Most from Your Garden:
Learn essential gardening techniques in Under 5 minutes with our Gardening How-To video series:
How to Grow Delicious Herbs in Containers
How to Grow Delicious Herbs in Containers for cooking with or as a gift:
Watch the video here >>
Make a Christmas Wreath from Your Garden
Natural materials such as evergreen leaves and needles, seasonal red stems, berries and pine cones can all be used to make a unique and attractive decoration for your front door:
Watch the video here >>
How to Make Leaf Mold
Make your own leaf mold and use it to produce an abundant supply of soil improver, mulch, compost material and more:
Watch the video here >>
How to Make a Cold Frame Step-by-Step
Cold frames are fantastically versatile, helping the gardener to cheat the seasons and enjoy more harvests:
Watch the video here >>
Companion Planting: Why Vegetables Need Friends
How to use flowers to deter pests, attract beneficial insects and improve your soil:
Watch the video here >>
How to Harvest, Store and Process Apples
When to pick apples and what to do with a glut from a generous tree:
Watch the video here >>
As always, you are welcome to get in touch if you have a question or topic you would like us to cover, we would love to hear from you. Just use our Contact Form