HAPPY THANKSGIVING

We hope everybody had a great Thanksgiving last week, and had the chance to celebrate with family, friends, and loved ones. On Thanksgiving Day, President Trump was honored to speak with members of each branch of the military deployed overseas via video conference, giving thanks to these brave members of our Armed forces. This included Army soldiers in Afghanistan, Marines in Iraq, Navy sailors cruising the Arabian Gulf, Air Force airmen in Turkey, and members of the Coast Guard in Kuwait. Vice President and Mrs. Pence also delivered Thanksgiving greetings to members of our military and their families when they visited Walter Reed National Military Medical Center. While we have so much to be grateful for, we are especially thankful this year for the dedicated service of our men and women in uniform, including those deployed overseas. God bless them and their families throughout this holiday season.
HONORING THE NAVAJO CODE TALKERS

President Trump held an event honoring three of the thirteen surviving Navajo Code Talkers of World War II. The Marine Corps recruited 29 young Navajos, not telling them what they are being recruited for, and then took them to a top-secret location just east of San Diego, where they created a military code to be used in the Pacific. Eventually, by the time the war ended in 1945, there were 400 Navajos that went to war. And because of the effectiveness the 260 code words grew to 600, subject to memory only. In every battle -- from the frontline, beach command post, command ship, all other ships - Code Talkers were used. This was a major accomplishment for the allies during the war and on the island of Iwo, in the first 48 hours of battle over 800 messages were sent by the 5th Marine Division. Major Connor said: Without Navajo, Marines would never have taken the island of Iwo Jima.
THE NEED FOR A DENUCLEARIZED NORTH KOREA

For the third time, North Korea's dictator, Kim Jong Un, oversaw the launch of an Inter-Continental Ballistic Missile, claiming that this latest test proves the nation is a nuclear power and that it now has the capability of reaching mainland USA with a nuclear warhead. After a briefing from Defense Secretary
Mattis, President Trump did not hesitate to remind us that his policy of a denuclearized North Korea will be realized under his leadership. Following consultations with allies and other world leaders, President Trump and Japanese Prime Minister Abe announced that they agreed to "strengthen our deterrence capability against the North Korean threat." Thanks to President Trump's recent trip to Asia, American ties with our Asian allies have never been stronger, and thanks to the President's leadership, the threat from North Korea will finally be confronted with strength and resolve.
ONE STEP CLOSER TO TAX REFORM
It's crunch time for tax reform. Now that the House and Senate both passed their versions of the Tax Cuts and Jobs Act, we are closer than ever to the largest tax cut in American history. This legislation by both chambers will fulfill President Trump's commitment to the American people by ensuring that…
· The job creator's tax rate is lowered
· The Middle Class gets the tax break they deserve
· And our country repatriates billions of dollars back onto our shores
President Trump continued to demonstrate his full commitment to tax reform when he traveled to St. Charles, Missouri this week to deliver a speech and promote the passage of his tax plan. Now that the fate of the middle class miracle is in the home stretch with votes on the final package pending, please keep the pressure on your Representative and Senators by calling them today!
To receive exclusive updates text TRUMP to 88022

Team Trump-Pence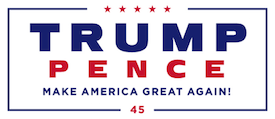 Paid for by Donald J. Trump for President, Inc.