TRUMP PENCE WEEKLY NEWSLETTER
9.23.17
AMERICA FIRST
This week, President Trump delivered his first address to the United Nations General Assembly in New York City. It was praised as the best speech of his presidency by former U.S. Ambassador to the U.N. John Bolton, and many others. In his remarks, President Trump outlined his Administration's policy of "Principled Realism," a clear pronouncement of America First principles as applied to the greatest threats the world faces today. The President said that America is "among the greatest forces for good in the history of the world, and the greatest defenders of sovereignty, security, and prosperity for all." Trump supporters around the country should be very proud of how the President called for accountability on behalf of all countries to own their futures and join the United States under his leadership in a new vision for peace in the world, including addressing threats we face from North Korea, Iran, ISIS, and more.
HURRICANE MARIA
President Trump and the White House are coordinating with FEMA and other agencies to monitor and provide support for those affected by Hurricane Maria that struck Puerto Rica just a week after Hurricane Irma. The President quickly approved an emergency declaration for Puerto Rico, providing Federal assistance to supplement the Commonwealth's and local response efforts, including addressing the power outage affecting nearly the entire island territory. Our hearts and prayers are with the people of Puerto Rico, as well as all the other areas affected by Hurricane Maria and the other recent natural disasters.
HAPPY ANNIVERSARY TO THE US AIR FORCE
President Trump visited Joint Base Andrews in Prince George's Country, Maryland to celebrate the 70th anniversary of the United States Air Force. Addressing our great airmen and women, the President expressed confidence about our ability to confront threats worldwide. "Each of you is a living, breathing symbol of our great Nation," the President declared. "Nothing inspires more confidence in our friends or incites more fear in our enemies." We all join President Trump in congratulating our proud Navy on this special occasion.
ONE IN, TWO OUT
The President is successfully fulfilling his campaign promise of cutting government regulation and getting rid of costly Obama-era regulations. President Trump's "one in, two out" plan that requested agencies remove two old regulations for each new one has already saved $645 million and is expected to save estimated $600 million in the future. In fact, the President exceeded that goal by actually eliminating 16 old rules for every new one in his first six months in office, contributing to quarterly GDP of an astonishing 3% in the second quarter, Next up on the President's agenda is tax cuts for the middle class to continue to deliver on his promise to Make America Great Again!
To receive exclusive updates text TRUMP to 88022

Team Trump-Pence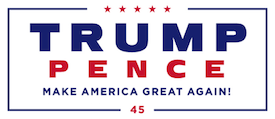 Paid for by Donald J. Trump for President, Inc.