TRUMP PENCE WEEKLY NEWSLETTER
8.26.17
THOUGHTS AND PRAYERS FOR OUR BRAVE SAILORS
The President and all of us at Team Trump send our thoughts and prayers to the families of our brave sailors who were injured and lost after a tragic collision at sea, as well as to those conducting the search and recovery efforts after the USS John S. McCain collided with a merchant ship.
HONORING THOSE WHO FOUGHT AND CONTINUE TO FIGHT
Last weekend, the President signed the Global War on Terrorism War Memorial Act while at Camp David. This bill begins the process of establishing a memorial honoring those who have fought and died in Iraq and Afghanistan since 2001 and those still fighting for us today. We must never forget those who pay the ultimate sacrifice for our freedoms.
MAKING AMERICA SAFE AGAIN
In an address to the nation on Monday, President Trump made it clear he has no higher priority than the safety and security of the American people. Since the very first day of his administration, he has taken decisive action to protect our citizens, our country, and our very way of life. The President announced a new strategy for South Asiato ensure that terrorists will never use Afghanistan again as a sanctuary to enable attacks against the United States. The President said it best in his historic speech: "From now on, victory will have a clear definition: attacking our enemies, obliterating ISIS, crushing al Qaeda, preventing the Taliban from taking over Afghanistan, and stopping mass terror attacks against America before they emerge."
SECURING THE BORDER
The main base of operations for the U.S. Border Patrol in Yuma, Arizona received a visit from President Trump this week. He is following through on his promise to the American people to build a wall to secure the southern border and the Yuma Sector is a clear example of how effective that wall will be. Illegal border crossings in the Yuma Sector have declined by 70 percent since they first built more than 50 miles of border wall in 2006. The President evaluated personnel and the state-of-the-art equipment used to secure our border, as well as the morale of U.S. Border Patrol with whom he has a very special bond.
THANK YOU ARIZONA!
This week, President Trump was thrilled to be back in Phoenix, Arizona with thousands of hard-working American patriots that helped put him in office! The President delivered a powerful speech, reminding his Arizona supporters that he is fully committed to fight for them until the job is done. Now more than ever, the President believes that we can do anything, build anything, and dream anything.
Team Trump-Pence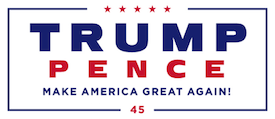 Paid for by Donald J. Trump for President, Inc.