TRUMP PENCE WEEKLY NEWSLETTER
8.12.17
PUTTING ISIS ON THE RUN
Due to new policies adopted by the Trump administration, nearly a third of territory reclaimed from ISIS in Iraq and Syria since 2014 has been won in the past six months. When President Trump came into office he made the decision to delegate tactical decision-making authority to the commanders in the field, and that has made a key difference. Under this President, ISIS is on the run. We're rebuilding our military, restoring the arsenal of democracy, and once again giving our soldiers, sailors, airmen, Marines, and Coast Guard the resources and training they need to accomplish their mission and come home safe.
ADDRESSING THE OPIOID CRISIS
President Trump held a briefing this Tuesday addressing the growing opioid crisis. President Trump believes the best way to combat drug addiction and overdose is to prevent people from abusing drugs in the first place. The President is confident that by working with our health care and law enforcement experts, we will fight this deadly epidemic and the United States will win. Drug overdose is now the leading cause of accidental death in the United States, and opioid overdose deaths have nearly quadrupled since 1999. During President Trump's campaign, he promised to fight this battle because, as President of the United States, his greatest responsibility is to protect the American people and to ensure their safety.
BREAKING RECORDS
On Monday, the Dow closed at a record high for the ninth day in a row! It's clear that President Trump's leadership is already making a remarkable difference. Since inauguration day, businesses have created more than ONE MILLION new jobs while the stock market continues to hit all-time highs.
BEING TOUGH AND DECISIVE
The United Nations imposed significant new sanctions on North Korea last weekend, in response to the dictatorship's repeated ballistic missile tests. This combined effort to confront what is, among other things, the foremost national security threat to the United States, is a big win for President Trump. After many years of failure, countries are coming together to finally address the dangers posed by North Korea. We must be tough and decisive!

Team Trump-Pence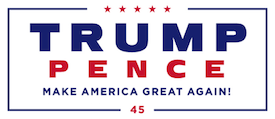 Paid for by Donald J. Trump for President, Inc.