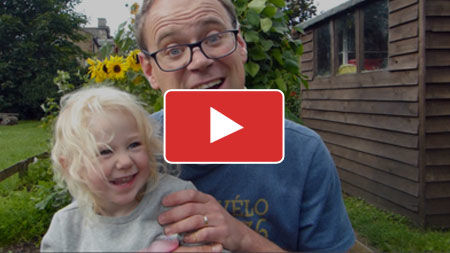 School gardens are a great way to get kids involved in the outdoors and learning about nature from an early age.

Help Kids Grow - Plant a School garden!
Teach children to grow and they'll develop a healthy attitude to food that will last a lifetime. School gardens demonstrate, hands-on, where good, nourishing fruit and vegetables come from.
In this short video we'll show you how to start a school garden from scratch and discover new ways to get kids growing.



Let's Beat the Pests Together
Want a warning when pests are heading towards your garden? Then get involved with the Big Bug Hunt research project! Report any bugs you've seen at:
BigBugHunt.com

Other Videos to Help You Get the Most from Your Garden
Learn essential gardening techniques in Under 5 minutes with our Gardening How-To video series:

How to Tell When Your Fruits and Vegetables are Ready to Harvest
Know when to harvest, so you can enjoy your hard-won produce at its absolute peak:
Watch the video here >>
Tomato Problems: Fix Issues Affecting Your Tomatoes
How to spot the signs when something is wrong with your tomato plants:
Watch the video here >>
10 Nutrient-Dense Fruits and Vegetables to Grow in Your Garden
The benefits of 10 of the most nutritious crops you can grow in your garden:
Watch the video here >>
7 Naturally Sweet Crops to Satisfy Your Sugar Craving
Growing your own fruits and vegetables naturally improves your diet but what can you do about that nagging sweet tooth?:
Watch the video here >>
10 Smart Watering Tips for Your Vegetable Garden
Watering at the right time, in the right place, using the right methods can make a big difference to how much water your garden needs:
Watch the video here >>
Say Adios to Aphids!
Five simple but highly effective ways to control Aphids in your garden:
Watch the video here >>
Make a Beautiful Arch for Climbing Vegetables
When you don't have much growing space it makes sense to train your vegetables upwards:
Watch the video here >>
As always, you are welcome to get in touch if you have a question or topic you would like us to cover, we would love to hear from you. Just use our Contact Form or reply to this email.