AMERICA IS BACK

Have you seen the markets lately? Company after company is announcing record investments in America by the billions of dollars and thousands of American jobs. Foxconn––a world leader in manufacturing for computers, communications, and consumer electronics - announced this week plans to build a state-of-the-art manufacturing facility for the production of LCD panel products in Wisconsin. This week's announcement is just the latest vote of confidence in President Trump and his economic agenda. Under President Trump, America is back!
THANK YOU OHIO
President Trump and First Lady Melania Trump joined the incredible men and women of Youngstown, Ohio for a rally this week. The crowd was amazing and was one of the largest rallies yet! It was great to be back with the American people, who helped make Donald Trump our 45th President of the United States. Despite the fake news, the rally provided an opportunity for the President to discuss this administration's accomplishments and the work ahead.
VISITING OUR BRAVE SOLDIERS
Vice President Pence visited Walter Reed Hospital yesterday morning and met with wounded members of the United States Armed Forces. These brave soldiers and their families have sacrificed so much for this nation — the American people will be forever grateful for their service.
THE PRESIDENT DONATES HIS 2ND QUARTER SALARY TO EDUCATION
President Donald Trump demonstrated his dedication to America's heroes of tomorrow by announcing his second-quarter salary will be donated to the Department of Education. The funds will be used to host a Science, Technology, Engineering, and Math (STEM)-focused camp for students. This announcement is the latest step that President Trump has taken in order to inspire interest in the STEM related areas of study and ensure that Americans are being trained for the jobs of the future.
SALUTING AMERICAN HEROES
President Trump and First Lady Melania Trump travelled to Struthers, Ohio, to participate in the AMVETS Post 44 Salute to American Heroes. At the event, President Trump talked about the reform of the Department of Veterans Affairs and honored a heroic World War II veteran, Robert M. Bishop. "All week at the White House, we are celebrating American heroes. And nothing fills our hearts with more pride than to be with those who risked everything to protect our citizens and preserve our way of life," said the President.
THE PRESIDENT'S WEEKLY ADDRESS
Watch the President's weekly address by
clicking here.
EVERY DOLLAR COUNTS
Supporters like you are the reason we've accomplished so much. Show your support
by contributing whatever you can today by clicking here
and watch a message directly from Lara and Eric Trump.

Team Trump-Pence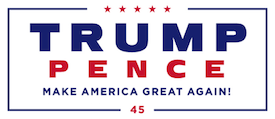 Paid for by Donald J. Trump for President, Inc.