MADE IN AMERICA WEEK
President Trump hosted companies from across the country at the White House to showcase products Made in America. In order to celebrate and highlight each state's effort and commitment to American-made goods, businesses from each of the 50 states displayed products. Leaders from each company showcased their unique businesses on the South Lawn and on the State Floor of the White House. Products ranged from sandwiches, to wool blankets, to firetrucks; each business connected by the common thread of American excellence. Since first running for office, President Trump has urged industry to Buy America, Hire American. He showcased that commitment again this week from The White House.
UPHOLDING AMERICAN ELECTION INTEGRITY
Election integrity matters to every American. President Reagan declared that the "right to vote is the crown jewel of American liberties." By establishing this commission, President Trump is taking action to ensure that the ballot box remains inviolate, and that the crown jewel shines brighter than ever before. "Every time voter fraud occurs, it cancels out the vote of a lawful citizen and undermines democracy. Can't let that happen. Any form of illegal or fraudulent voting, whether by non-citizens or the deceased, and any form of voter suppression or intimidation must be stopped," said President Trump. At the President's direction, Vice President Pence will serve as chairman of this commission and, with the help of a bipartisan group, Vice President Pence will perform a truly non-partisan service for the American people.
LISTENING TO IDEAS FROM OUR SERVICE MEMBERS
President Trump and Vice President Pence sat down for lunch with service members who served in Afghanistan. The President has heard plenty of ideas from a lot of people, but he wanted to sit down and listen to the people on the ground. "We've been there for now close to 17 years, and I want to find out why we've been there for 17 years," said President Trump.
IMPORTANCE OF MANUFACTURING IN AMERICA
Continuing Made In America Week, President Trump welcomed 20 companies that manufacture their products in the United States to join him for a roundtable discussion to highlight the importance of manufacturing products in American factories,with the hands and labor of American workers. "We're here today to continue our celebration of American manufacturing as part of Made in America Week. The leaders and innovators around this table create the products that fill our homes, defend our nation, and enrich our lives. And each one of these products proudly carries the label, Made in the USA," said the President.
You can watch the roundtable discussion by clicking here.
THE PRESIDENT'S WEEKLY ADDRESS
Watch the President's weekly address by
clicking here
and receive a message directly from the President who is working every day to Make America Great Again!
TIRED OF ALL THE FAKE NEWS?
Coming soon from Trump Studio! 'Like' our Facebook page to stay up-to-date on all of the President's work. Join Lara Trump and others by
clicking here.

Team Trump-Pence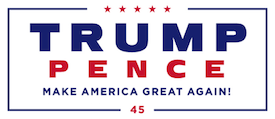 Paid for by Donald J. Trump for President, Inc.