On November 8th, the American People voted for historic change and serious action.
By delivering the House, the Senate, and the White House, the American people gave Washington clear instructions: It's time to get busy, get to work, and to get the job done.
President Trump is keeping his promises and continues to Make America Great Again!
The Movement Continues In Kentucky
THIS WEEK
President Trump held a rally in Louisville, KY on Monday. He made it clear that standing together as Americans, we are going to deliver amazing things for the citizens of Kentucky and the United States. We are going to take power back from the political class in Washington, and return that power to the American people. It's happening, and it all started on
November 8th
.
No One Knows America Like Truckers
No one knows America like truckers know America. All across America every day, they see every hill, valley, and pothole in our roads that have to be redone in every town and forest from border to border and ocean to ocean.
America depends on truck drivers. They work very hard for every citizen of our country. That's why President Trump held a meeting with truckers this week to address the many issues facing their industry.
Bipartisan Support For Supreme Court Nominee Judge Grosuch
Judge Neil Gorsuch began confirmation hearings at the United States Senate this week. President Trump has nominated the most qualified, principled, and strongest defender of the Constitution possible as his choice for Supreme Court Justice. It comes as no surprise that Judge Gorsuch is being lauded as a brilliant judge who rules based on the Constitution rather than his own opinions.
You can support Judge Gorsuch by clicking here and signing the petition.
Paying Back Our Veterans
President Trump held a listening session with Veteran Affairs Secretary David Shulkin and veterans. As Commander-in-Chief, President Trump will not accept sub-standard service for our great Veterans. Every member of our government must do their utmost to ensure our Veterans have the care that they earned. That's the way they're going to be treated.
Imagining A Better Future In Space
For almost six decades, NASA's work has inspired millions of Americans to imagine distant worlds and a better future right here on Earth. President Trump signed Senate Bill 442 to reaffirm our Nation's commitment to NASA's core mission: human space exploration, space science, and technology. With this legislation, we support NASA's scientists, engineers, astronauts and their pursuit of discovery.
We are one people. Whether we are black, brown or white, we all salute the same great American flag.
As long we remember these truths, we will not fail. No one can beat us. We are Americans, and the future belongs to us.
This is your moment. This is your time. And this, the United States of America, is your country again.
We're in this together and we can't thank you enough for your continued support.

Team Trump-Pence

P.S. ACT NOW: Pre-order our new Limited Edition Make America Great Hats by clicking here.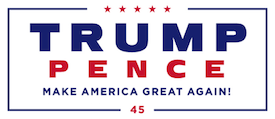 Paid for by Donald J. Trump for President, Inc.