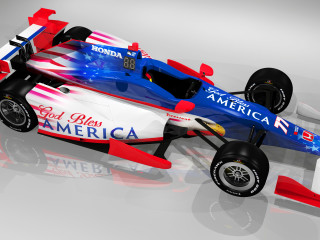 Make a difference! Be part of history! Help put the God Bless America Special in the race for the 101st Indy 500! Our prayer is that this car will be a rallying point for unity in America. Never in the 100 plus year history of IndyCar racing has God been featured on the grid! We will honor God, our country and the U.S. Military. The race will generate 6-7 million live viewers on ABC and webcast, 30 million social media impressions, 5 million print media impressions and 400,000 attendees.
Only a few days left to help us make history and put the God Bless America Special in the Indy 500!
Check out our featured special - Get your name on our car, plus a limited edition shirt, plus as autographed photo of the car - all for just $199 - Join the team and invest today!
For more details, click here:
Make History