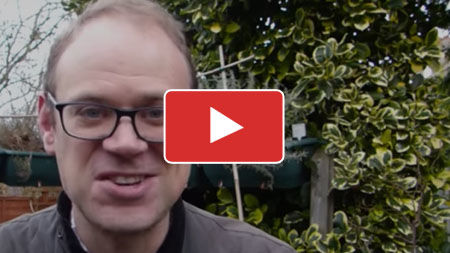 You dig, you toil, you reap the rewards. But just how necessary is digging?

No-Dig Gardening: An Easier Way to Grow
Mother Nature doesn't use a spade, and she does pretty well! So why not follow her example - ditch the spade and save valuable time and effort in the garden.
In this short video we demonstrate how no-till gardening can help save your back while boosting your soil's health.

Let's Beat the Pests Together
Want a warning when pests are heading towards your garden? Then get involved with the Big Bug Hunt research project! Report any bugs you've seen at:
BigBugHunt.com

Other Videos to Help You Get the Most from Your Garden
Learn essential gardening techniques in Under 5 minutes with our Gardening How-To video series:
Bird Feeders: Encourage Birds into Your Garden This Winter
Find out why it's important to encouraging birds into your garden during winter:
Watch the video here >>
Soil Health: How to Improve Your Soil
Any soil type can be improved using one simple technique:
Watch the video here >>
Upcycling Projects: Turn Your Trash into Garden Treasures!
Put worn out or unwanted items to good use in the garden, here are some great upcycling ideas:
Watch the video here >>
Growing Garlic from Planting to Harvest
How to plant, harvest and store for perfect garlic every time:
Watch the video here >>
6 Proven Strategies for Year-round Harvests
Tricks and techniques to keep your home-grown harvests coming all year round:
Watch the video here >>
As always, you are welcome to get in touch if you have a question or topic you would like us to cover, we would love to hear from you. Just use our Contact Form.